Forwarding Business Numbers: Managing Workflows to Maximize Customer Service
Competitive enterprises understand the importance of building a base of loyal brand advocates. In order to create this type of customer base and maximize the profitability of each relationship, companies must be aware of the service they provide during each and every touch point of the relationship.
This level of customer focus becomes difficult in a global and an online marketplace. It becomes increasingly complicated as customers' expectations continue to rise, even as they rely more on technology and less on face-to-face interaction. Companies now have to manage an ever-growing number of channels, and it can be difficult to create a consistent experience for a vast customer base.
Customer Service Agents Are Brand Agents
Contact agents are still critical to shaping a customer's opinion of a brand. One bad interaction with one representative can sour an entire relationship.
Customer call centers bring to mind a certain visual. Rows of cubicles housing operators who churn calls as quickly as they can. But the modern model of customer contact centers varies almost as greatly as the enterprises that run them. Agents interact via phone, email, online chats and instant messages, and other web-based collaboration tools. Online phone systems and web-based call routing software have lessened the need to for a physical call center and have led to a rise in telecommuting customer service agents.
When a customer dials toll-free number to reach your business, she does so with certain expectations. She may have an image already shaped in her mind based upon your outside marketing efforts. If she has historically had wonderful interactions with your competitors, she will expect the same (and likely more) from your agents. There is also the "Zappos Effect" wherein a customer's interactions with one industry shapes his expectations for another. Companies like Zappos have greatly increased customers' expectations from all businesses with whom they come in contact. If an online shoe store can create meaningful customer interactions, why can't all companies?
Creating A Consistent Customer Experience
Global call centers and telecommuting workers are common in the world of customer contact. Enterprises must not let this fragmented workforce affect productivity or call quality. By utilizing technology, you can create a consistent customer experience.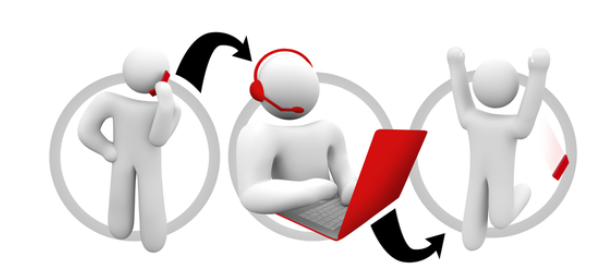 Virtual workers can be added to the company's online phone system using an automatic call distributor. This will route calls directly to the agent's system. Calls will be forwarded from the customer's location, through your online phone system, to the first available agent. A remote agent answer calls with the same technology as in-house agents. His calls will be captured in all call reports and callers will not be able to tell that the agent is a telecommuter.
Online phone systems allow complete control over call routing. Using the data gathered from call reports, managers can determine how to best route calls to minimize customer wait time and increase efficiency. Sequential ringing and simultaneous ringing technology are critical to creating an exceptional customer experience. With simultaneous ringing, a customer dials a local telephone number and the call is forwarded to the call centers and remote agents that you designate. All lines will ring at the same time and the call is connected to the first agent to pick up. Sequential ringing allows administrators to set up a hierarchy of locations and phones, and inbound calls will ring in a determined order. If no one at your LA call center picks up, calls can then be forwarded to virtual agents, in a particular order.
Call reporting and centralized software systems allow call center administrators to manage the customer experience. In addition to call routing, administrators can plan staffing decisions and schedules based on need, location, and call volume. Managers are able to record and listen in on agent interactions, whether they work in the same building or not. Though agents may be stationed hundreds of miles apart, technology allows managers to control call quality as if all representatives were located under one roof.
A Fragmented Workforce Can Be A Unified Workforce
When contact agents are spread across call center locations or work remotely, the workforce can feel fragmented. But this fragmentation doesn't have to lead to inconsistent customer experiences. With the proper technology and a laser focus on customer relations, enterprises can create meaningful and consistent customer interactions.
Get Your Own Phone Number In
Forward Your Calls To

Forward calls to any country
Phone Jack
Phone-Jack.org lists each phone jack to help you with phone install. You may need a telephone adapter in order to connect to the phone wall. Phone jacks differ from country to country. We have the best UK phone numbers without setup fees. UK Phone Number and much more.
Phone Jacks
Phone Jacks may be found in the countries listed. To make a phone connection in these places, your phone wire will need to be compatible with the type of telephone jack.
Phone Line
Each phone line and phone plug are pictured and described. The phone socket may be found in the countries listed on each page. Use Phone-Jack.org to find the type of phone wall jack.
Phone Adapter
If your phone does not fit the telephone plug, phone jack wiring may require a phone adapter. Telephone jacks are commonly found in the countries listed.
Phone Jack
For telephone connections with each type of phone jack, you may need a phone jack adapter. RJ11 wiring is the most commonly found telephone system.
RJ-11
The US RJ-11 is often considered the international standard because it is such a commonly found phone jack. If telephone sockets are not compatible with your phone, an analog telephone adapter may be necessary. You may also need a phone jack extension if you want to use a data modem and voice calls simultaneously.
Wireless Phone Jack
To save the hassle of telephone cabling, you may want to invest in a wireless phone jack. It works with your modem phone jack to connect you without a phone jack line.
Wiring Telephone
Search Phone-Jack.org for wiring telephone instructions for your phone jack outlet. You may need an acoustic coupler to connect to a different kind of modular phone jack.
Jack Plug
A jack plug abroad may be different than your jack plug at home. Before attempting phone jack installation with phone plugs, use a phone line tester to see if the line is analog or digital.
Phone Cord
To hook up modem to wall phone jack, you may need a telephone jack adapter and phone cord. Other equipment may also be required, so search Phone-Jack.org for details.